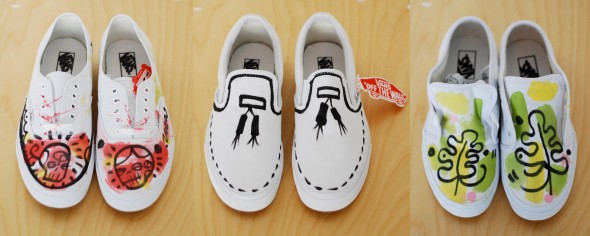 In June, HVW8 was host to a one night showing of One Way of Another – an exhibition from a crew of skate-industry veteran artists, traveling the country in a van. It was the classic summer skate road trip, only this time,  the skaters took time out between skate spots to exhibit their works at galleries along the way. For the LA leg Greg 'PNUT' Galinsky, Matt Irving, Todd Bratrud, Michael Leon, Travis Millard, Ben Horton, Donny Miller,  Mat O'Brien and others we're in the house to show their work, hang out and catch up.
Our friends at Canada's Color Magazine were kind enough to feature multiple images from the HVW8 Gallery showing of One Way or Another in their current issue's full article on the road trip. Make sure to check for it at  your local news stand or here.
(event images in Color Magazine)
PNUT created the custom Vans seen below out behind the HVW8 Gallery right before the show. A quick video of their creation is on the Color site here.
A few pairs and  other pieces from One Way or Another are still available in the HVW8 online shop. Get them while you can!